Savory Meatloaf Cupcakes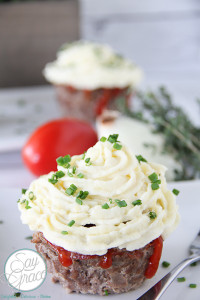 Cupcakes
1 T. extra virgin olive oil
3 c. yellow onions, chopped
1 tsp. fresh thyme leaves, chopped
2 tsp. kosher salt
1 tsp. ground black pepper
3 T. worcestershire sauce
⅓ c. chicken broth
1 T. tomato paste (from tube)
1¾ lbs. ground chuck
¾ lbs. ground short rib
½ c. plain dry bread crumbs
2 eggs, beaten
½ c. ketchup, divided
Icing
3 lbs. Yukon Gold potatoes, peeled and diced
3 heads garlic
2 sticks butter
8 oz. cream cheese
¼ c. half and half
kosher salt, to taste
white pepper, to taste
Chives, garnish
Preheat oven to 375 degrees.
Cut off the tops of the heads of garlic (paper intact), drizzle with olive oil and sprinkle with kosher salt. Place the heads inside aluminum foil and roast in the oven for about 35-40 min. Garlic should be soft and pliable when ready. Allow to cool. Squeeze the garlic cloves from paper and set aside.
Place potatoes in a pot of water and boil for about 25-30 minutes. Potato should easily slide off fork when done.
Drain them in a colander and return to the pot over low heat to remove the moisture.
Add butter, cream cheese, half and half, roasted garlic, salt and pepper. Mash with a potato masher until well combined.
Decrease oven temperature to 350 degrees.
Spray 10 jumbo cupcake wells with cooking spray.
Heat olive oil in a medium skillet. Add onion, thyme, salt and pepper and saute on medium-low heat for about 8 minutes or until they become translucent in color. Remove from the heat.
Add in the Worcestershire, chicken broth, tomato paste and stir until well combined. Set aside to cool.
In a large bowl, combine the chuck, short rib, onion, bread crumbs, and eggs raking with two forks. This method will ensure that the loafs won't become tough.
Using an ice cream scoop, scoop two scoops into each cupcake well. Pat the mixture slightly to ensure that the meat takes the shape of the well.
Spread 1 T. of ketchup onto each cupcake and bake for about 20-25 minutes or until the cupcake are cooked through.
Using a piping bag, pipe the mashed potatoes onto the cupcakes in the design of your choice. Garnish with chives. Say Grace and enjoy!!