German Chocolate Surprise Cupcakes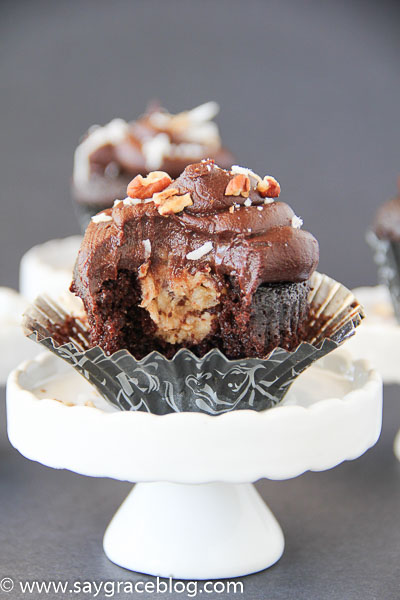 Cupcakes
2 and ¼ cups all purpose flour
3 tsp. baking powder
¾ tsp. baking soda
¾ tsp. fine sea salt
12 T. unsalted butter, softened
1 cup plus 2 T. Dutch process cocoa powder
1 and ½ cups granulated sugar
1 and ½ cups muscavado light brown sugar
1 and ½ cups dark roast brewed coffee, room temperature
1 and ½ cups buttermilk, room temperature
3 eggs, room temperature
2 inch vanilla bean, seeds scraped
Coconut Pecan Frosting
3 egg yolks, room temperature
1 c. brown sugar, packed
1 and ½ sticks butter, unsalted
1 can evaporated milk
2 inch vanilla bean, seeds scraped
1 pinch kosher salt
2 c. pecans, toasted,, chopped
2 c. sweetened coconut
Chocolate Buttercream Frosting
4 sticks butter, unsalted, room temperature
6 c. powdered sugar, sifted
1 c. Dutch process cocoa powder, sifted
1 tsp. kosher salt
4 inch vanilla bean, seeds scraped
6 T. half and half
Coconut, optional garnish
Pecans, toasted, optional garnish
Cupcakes - Preheat the oven to 325 degrees and line muffin tins with liners.
In a large bowl, toss flour, baking powder, baking soda, and fine sea salt. Set aside.
Melt butter in a large saucepan over medium heat and whisk in Dutch process cocoa powder and cook for about a minute.
Remove the saucepan from the heat and stir in both sugars.
Add in coffee, buttermilk , eggs and vanilla beans and whisk until smooth.
Pour the chocolate mixture into the flour mixture and stir until combined.
Divide the batter between 32 cavities. Fill any unused cavities halfway full with water for even baking.
Bake for about 18-20 minutes or until there are just a few moist crumbs picked up with a toothpick.
Let the cupcakes cool on a baking rack for 15 minutes to set.
German Chocolate Frosting - Melt butter in a saucepan over medium heat.
Whisk in milk, sugar, egg yolks and salt for about 15 minutes, stirring constantly.
Remove from the heat and stir in vanilla beans, coconut and toasted pecans.
Refrigerate until ready to assemble the cupcakes.
Chocolate Buttercream - Using a mixer fitted with a paddle attachment, cream butter.
Add powdered sugar and cocoa powder with the mixer on low until combined with the butter.
Increase the speed of the mixer to medium and add the salt, vanilla beans, half and half and beat until creamy.
Assembly - Remove a circular chunk from the center of each cupcake. Fill with 1.5 T. of the coconut pecan frosting. Decorate the cupcakes with chocolate buttercream and garnish with coconut and pecans. For a big surprise, 86 the garnish. Say Grace and enjoy!
Recipe by
Say Grace
at https://saygraceblog.com/german-chocolate-surprise-cupcakes/