Peach Dump Pie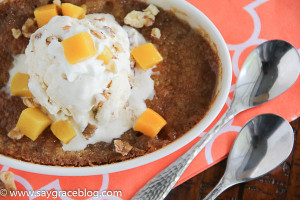 28oz. can sliced peaches in heavy syrup
15 oz. can sliced peaches in heavy syrup
8 oz. can crushed pineapple
½ tsp. cinnamon
⅛ tsp. nutmeg
1 tsp. vanilla extract
¼ tsp. lemon extract
1 tsp. sugar
1 c. walnuts
1 butter boxed cake mix
2 sticks butter, melted
Dump peaches and pineapple into a greased 10X13 casserole dish. Don't use all of the syrup through. You can toss or drink maybe a quarter cup of it. You don't want it to be too juicy.
Sprinkle the fruit with cinnamon, nutmeg, vanilla extract, lemon extract, and sugar. Give it a stir and taste it. If you feel it needs a little bit more of this and that, add to your heart's content. Make it your very own!
After the flavors are right, sprinkle walnuts on top. Now dump the cake mix right over the top, spreading evenly.
Melt butter over low heat on the stove and pour evenly over entire dish, making sure that the butter covers every morsel as you don't want white patches to develop. This will ensure an even golden brown color over the entire pie.
Place the dish in a 350 degree oven for about 50-60 minutes. It should be bubbly, brown and crusty all over! Serve immediately out of the oven with a scoop of ice cream. Say grace and enjoy!