Nacho Typical Fries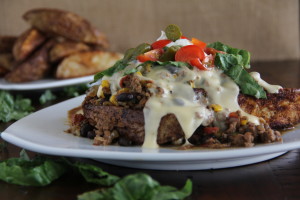 4 large russet potatoes
¼ cup extra virgin olive oil
2 tsp. chili powder
2 tsp. cumin
2 tsp. kosher salt.
2 lbs. ground chuck
1 large onion, diced
1 jalapeno, seeded and chopped
Homemade Taco and Ranch Seasonings
1 T. chili powder
1 and ¼ tsp. garlic powder
1 and ¼ tsp. onion powder
¼ tsp. crushed red pepper (optional)
¼ tsp. dried oregano
¾ tsp. paprika
1 and ½ tsp. cumin
1 tsp. black pepper
3 T. dry buttermilk powder
2 T. dried parsley
1 and ½ tsp. dried dill
1 tsp. dried onion flakes
1 tsp. dried chives
1 tsp. black pepper
½ tsp. white pepper
1 and ½ tsp. kosher salt
1 cup beef broth
1 can diced tomatoes with chiles
1 cup frozen corn
1 can black or pinto beans
Cheese Sauce
3 T. butter
3 T. flour
1 cup of milk
1 cup of chicken stock
2 cups of a four cheese Mexican blend (your choice)
kosher salt, to taste
pepper, to taste
hot sauce, dash to taste
salsa, garnish
romaine lettuce, garnish
sour cream, garnish
Diced tomatoes, garnish
jalapenos, optional garnish
I started by cutting 4 large russet potatoes into 6 wedges.
Toss the wedges in olive oil, chili powder, cumin and kosher salt.
Place wedges onto a cookie sheet and roast in a 450 degree oven for about 45 minutes, turning them about half way through the cooking process.
In the meantime, place ground chuck, onion, and jalapeno in a large pan and break the meat up with a wooden spatula until it browns and the onions and peppers soften, about 10 minutes. Drain the mixture and add chili powder, garlic powder, onion powder, crushed red pepper (optional), dried oregano, paprika, cumin, black pepper, dry buttermilk powder, dried parsley, dried dill, dried onion flakes, dried chives, black pepper, white pepper, and kosher salt.
Stir in beef broth and bring the mixture to a boil an add diced tomatoes with chiles, frozen corn and beans.
Reduce your heat and simmer for about 10 minutes.
In a medium pot, add 3 T. of butter. Melt over medium to high heat, and add 3 T. of flour and cook it for about a minute.
Whisk in milk, chicken stock and bring it to a boil.
Wait for the mixture to thicken and remove the pot from the heat and add in cheese mixture.
Salt and pepper cheese sauce to taste. Add dashes of hot sauce here if desired.
Plate 6 potato wedges and top with a couple scoops of meat mixture.
Pour cheese sauce over each serving.
Garnish with salsa, romaine lettuce, sour cream, chopped tomatoes, and jalapenos. Say Grace and enjoy!!