Oatmeal Pecan Waffle Cookies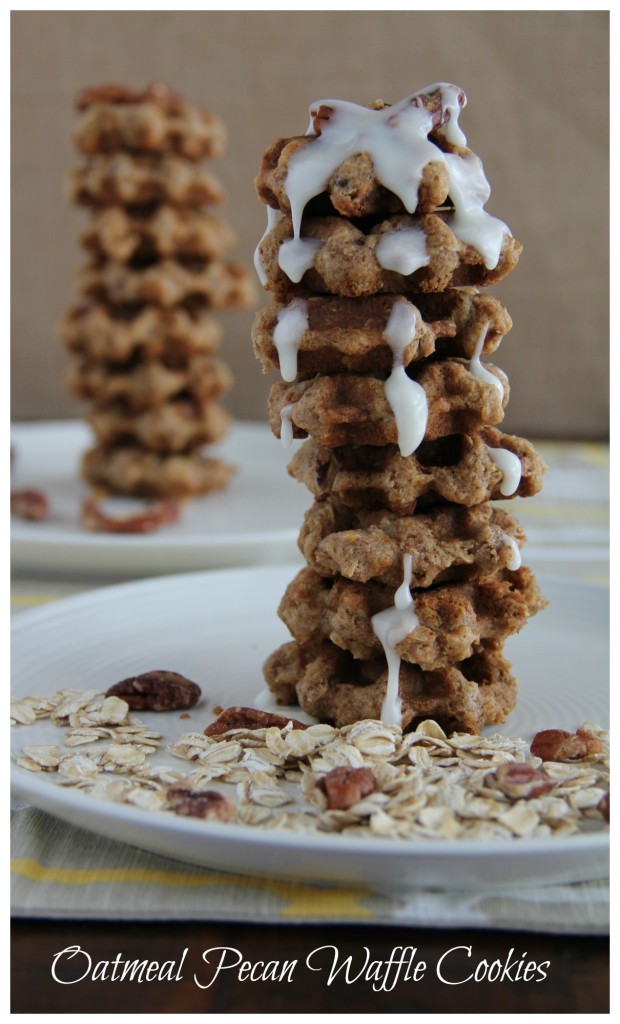 Serves:
About 12 waffle cookies
1 stick (115g) unsalted butter, softened
½ cup (100g) packed brown sugar
6 tsp. (25g) sugar
1 egg, room temperature
1 and ½ inch vanilla bean, scraped
1 and ½ tsp. maple syrup
¾ cup (95g) all-purpose flour
¼ tsp. kosher salt
½ tsp. baking soda
¾ tsp. Korintje cinnamon
1 and ½ cups (120g) old fashioned rolled oats
½ cup (70g) raisins
¼ cup (32g) pecans, toasted and chopped
Icing
¼ cup (28g) powdered sugar
1-2 T. (15-30ml) heavy whipping cream
Cream butter and two sugars until light and fluffy in the bowl of an electric mixer fitted with a paddle attachment.
Add the egg until well combined and then the vanilla seeds and maple syrup.
In another bowl, sift together the flour, baking soda, cinnamon and salt and add to the wet ingredients with the mixer on low speed, just until combined.
Mix in the oats on low and then fold in the raisins and toasted pecans.
Chill the dough for 20 minutes.
Spray your waffle iron with nonstick spray.
Place one heaping tablespoon of the cookie dough in each well of your iron and cook for about 3 minutes. Every waffle iron is different so be sure to test one cookie first. Cool on wire rack.
Mix powdered sugar with heavy whipping cream until you get that pourable consistency. Pour over your waffle cookies then Say Grace and enjoy!
Recipe by
Say Grace
at https://saygraceblog.com/oatmeal-pecan-waffle-cookies/